A9s
Robotic Vacuum Cleaner
Panoramic Navigation
Vibrating Water Tank
Vacuuming & mopping robot vacuum
Higher efficiency. Better deep cleaning performance.
The upgraded PanoView navigation system and vibrating water tank have greatly improved A9s' abilities to vacuum and mop the way humans do, and to avoid incomplete cleaning.
More about the Technology
>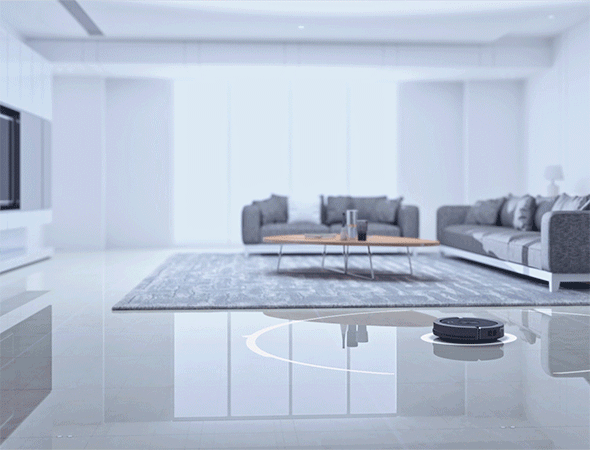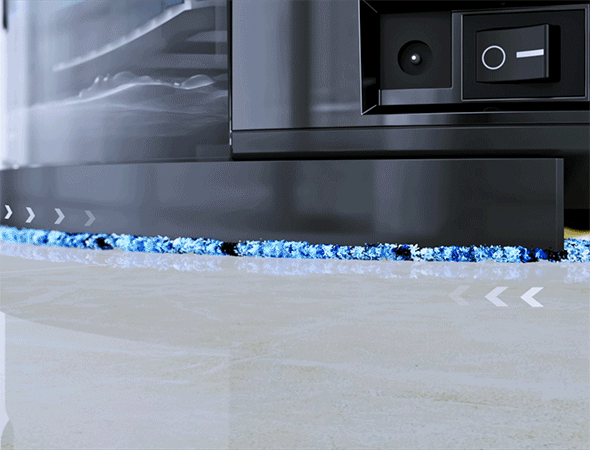 Easy operation. Multiple intelligent functions.
A9s takes remote orders – whether it's starting a new cleaning cycle or setting cleaning areas.
During cleaning, it avoids obstacles and activates auto-charging autonomously.
More about the Features
>
Vinyl record exterior. Art meets technology.
A9s features a vinyl record exterior made of strong,
abrasion-resistant aluminum alloy in hairline finish.
Ultra slim body, which houses a large dustbin,
blends into its classic appearance perfectly.
With every meticulous detail, A9s fuses
art into technology.
More about the Design
>
Upgraded PanoView Navigation
The upgrade, assisted by CV-SLAM algorithm and an embedded gyro, means high-precision
scanning of the surroundings, effectively avoiding missing or redoing any areas.
Gen 3 CyclonePower
Cleaning System
Gen 3 CyclonePower cleaning system cleans your home in 3 steps: specially tailored side brushes sweep
debris to the cleaning path where the roller brush at the bottom of the robot removes dust, and strong
suction and large dustbin ensure maximum debris pickups.
Interchangeable roller brushes
A9s comes with two roller brushes – bristle brush for carpet and rubber brush for hard floor,
fulfilling every cleaning need in different environments.
Rubber Brush
For hard floor
Pioneering vibrating water tank
Pioneering vibrating water tank technology imitates the way humans mop. The water tank is
powered by a built-in vibrating motor which keeps the mop cloth in close contact with the
floor and cleans the spot repeatedly.
Takes care of you different needs with 4 cleaning modes.
The remote control makes mode switching at the mere touch of a button.
Auto Mode
Clean along a zigzag path
to maximize coverage and
minimize incomplete
cleaning.
Suitable for hard floor.
Spot Mode
Deep clean a designated
area.
Edge Mode
Clean along the edges of
the walls and corners.
Max Mode
Also suitable for using the
robot for the first time.
(Not applicable to mopping
function)
With ILIFE APP, you have A9s in the palm of your hand anytime, anywhere – whether it's starting a cleaning
cycle, creating a real-time map, setting a schedule, switching cleaning modes, or getting error alerts
and checking accessories consumable life.
Real-time Mapping
Scheduling
Modes Switching
Waterflow Control
Malfunction Alarm
Materials Health
Electrowall

®

marks an invisible boundary, guiding A9s to clean the designated areas.
Following your preset schedules, A9s can start working 24/7 automatically.
OBS All-Terrain
Detection System
Anti-collision and anti-fall, the 22 sets of terrain
detection sensors make A9s an autonomous cleaner.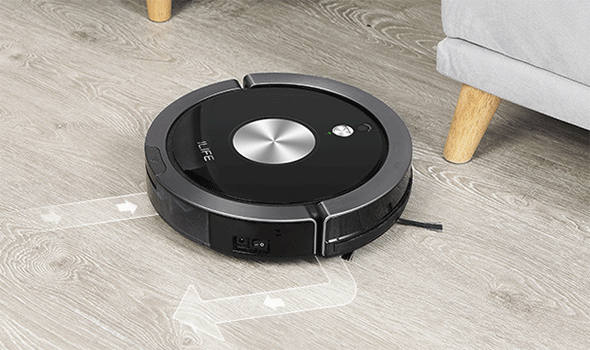 Avoid Obstacles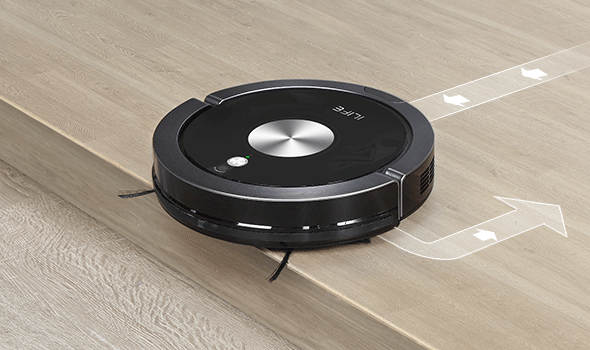 Avoid Steps
A complete AI experience – A9s automatically returns to its charging dock for recharge when battery runs low.
Once fully charged, it continues cleaning the spot where it was paused.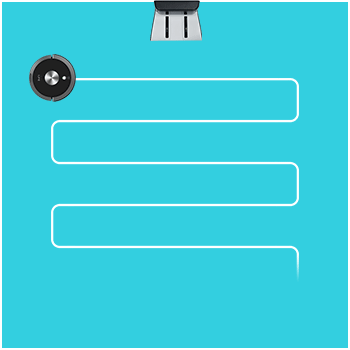 Real-time voice announcements report work status and errors. (It can be turned off on APP)
Classical vinyl record exterior goes well with any interior styles.
With a capacity of 450mL, A9s doesn't require frequent emptying, making it a perfect
help to large home owners.
At only 7.6cm thick, it scoots freely under the bed and low furniture,
cleaning every inch of the floor.
These obstacle-avoiding wheels can overcome a 1.5cm obstacle easily,
reducing human involvements in the cleaning process.
Description:
Product Dimension: 330*320*76mm
Net weight: 2.53kg
Color: Black
Dustbin capacity: 0.6L
Product Parameters:
Charging type: Auto Charging / Manual Charging
Cleaning mode: Path, Spot, Edge, MAX
Charging time: < 300min
Cleaning time: up to 120min
Battery specifications: Li-ion
Specifications:
Grade-ability: 15-degrees
Ability to cross obstacles: ≤ 15mm
Suitability: Tile, wood, carpet
Power: 100-240VAC 50/60HZ 22W
Working voltage: 14.4V